20 Aug

Victoria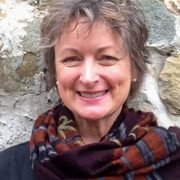 Jane Bennett
Founder of Celebration Day for Girls
EMAIL: 4janebennett(at)gmail(dot)com
read more
I began my professional life as a social worker and after experiencing the revelations of charting my menstrual cycle in the mid-eighties I pursued a career counselling, teaching and creating resources for Natural Fertility Management . In 2000 I designed and ran the first Celebration Day for Girls, and in 2012 I began training facilitators internationally to run this programme. I am deeply honoured to have shared this special occasion with so many mothers and daughters over the years and now to be assisting an exceptional group of women to run this program in their own communities and countries. I am the author of A Blessing Not a Curse (2002) and Girltopia (2010), and co-author of The Natural Fertility Management Kits for Contraception and Conception (2004) with Francesca Naish, The Pill: Are You Sure It's For You? (2008) with Alexandra Pope and Woman Wise Conversation Cards with Andrew Lines. I have also created the Fathers Celebrating Daughters and Cool on the Inside workshops and  train facilitators to run these programs.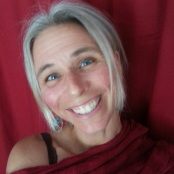 Michelle Buggy
Torquay, South West Coast
PHONE: 0417 168 070
EMAIL: informemotion(at)gmail(dot)com
read more
I am a mother of five, 2 boys and 3 girls.
We live in the Surf Coast and I work broadly throughout the Surf coast, Geelong and Bellarine Areas as a trainer, group facilitator and community arts coordinator,   facilitating Art and Art Therapy groups for a broad range of clients supporting: mental health, pregnancy, mothering, disabilities, eating disorders, addictive behaviours, team building, grief support services and personal evolution.
I am a practicing artist, Director of InformEmotion, Creator of The Red Tepee Community Arts Project and Spring Tide Experiential Arts Journal.
I have completed higher degrees in Fine Art and Art Therapy as well as a qualification in Training. I have studied Birthing Wisdom,  Antroposophy, Mentoring Circles with Young Girls, Wilderness Adventure Based Experiential Learning and Celebration Day for Girls facilitation with Jane Bennett!
I am passionate about Woman's Wellbeing and self-empowerment and believe A Celebration Day for Girls lays a very rich foundation for a positive journey to womanhood, and one is which the bond of mother and daughter continues to evolve and offer support and connection.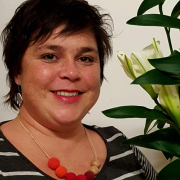 Cathy Giltrap
Albury-Wodonga
EMAIL: cathy(at)celebrationday(dot)me
PHONE: 0403 166 589
read more
I love living in regional NSW in Albury-Wodonga. Professionally I am involved in a few areas including sustainable building design with an interest in the human element as well as many years of experience of  administration in health settings. I am managing Albury Osteopathic Clinic currently and will be taking on a care-provider role over the next few years when I become a doula.
When I looked for guidance to help my daughters through menarche and puberty, I couldn't find anything in our local community and it was this that brought me to becoming a 'Celebration Day for Girls' Facilitator. I am blessed to have found this avenue to connect and guide girls and women at this magnificent time and am looking forward to meeting you and your daughter.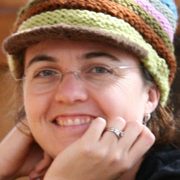 Melissa Gonella
Eltham, Melbourne
PHONE: 0418 990 619
EMAIL: melissa(at)melissagonella(dot)com
WEBSITE: www.melissagonella.com
read more
I have been providing women and girls with well-structured and experienced support surrounding natural fertility awareness and menstrual education for more than 5 years.  Teaching both privately and in group settings, running programs such as Women's Circles, Connecting Cycles (for Women), Celebration Day for Girls (aged 10-12 and mothers/carers) and Cool on the Inside (girls 14-16).  I am a trained natural fertility educator, a doula and the mother of two daughters aged 8 and 13 and a 12-year old son.
I strongly believe that the way women and girls view their biology impacts their health and emotional wellbeing.  It's time to step beyond old and outdated coping mechanisms into a fresh understanding of self-care that, unmistakably has a positive effect on health and the transformational stages of puberty through to menopause.
I also offer Cool on the Inside workshops.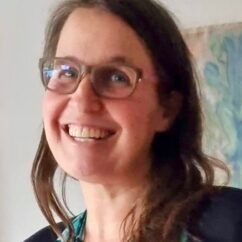 Fiona Haasz
Frankston, Melbourne
PHONE: 0412 099 397
EMAIL: fionahaasz (at) gmail (dot) com
WEBSITE: www.lionsa.com.au
read more
My training and professional practice includes earlier training as a Dancer, Dance Therapist, Visual Artist and Art Teacher, to more recently becoming a Transpersonal Art Therapist, Pranic Healer, Australian Bush Flower Essence Practitioner and more recently a Tao Healing Hands Practitioner. These new fields are also complimented by Women's Mysteries and Breathwork.
I have a beautiful shopfront in Frankston, from which I facilitate regular basket weaving, art therapy and tao hands blessing consultations. The space is also used for art exhibitions, kirtan and an art cafe.
I also run dance therapy sessions with mostly neuro-diverse clients (with ADHD and autism diagnoses particularly) and young people and their mothers.
For me becoming a mother has been an amazing journey of unfolding womanhood. I have found that as I dig deeper into a profound honouring of what we as women are capable of (apart from creating actual babies) all kinds of new creations, to which this pelvic bowl has unique access, are possible.
Then, fourteen years along this path, I became a facilitator for Celebration Day for Girls, at the heart of which is the gift of beautiful immersion into what it means to be a woman.
I am honoured to be serving other women, from this place of reverence for our bodies and spirit and it is with deep respect and care that I facilitate these beautiful Days for girls and their mothers, so that as women together we create a gentle, courageous space for participants whole selves to thrive.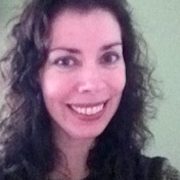 Anne Hall
Montmorency, Melbourne
PH: 0432 107 835
EMAIL: annabelle.hall(at)optusnet(dot)com(dot)au
read more
I am a qualified teacher and birth attendant and have worked extensively with mothers and babies, families of pre-schoolers, women and pre-pubescent girls. I believe girls, and women, should have access to clear and practical information about the workings of their bodies. The time of menarche is a natural event in our lifecycle that is special and significant to the emotional and physical health of girls and deserves to be honoured. A positive experience of menarche has long term benefits in all the major transitions of a woman's life.
I live in the lively and leafy suburb of Montmorency in Melbourne and am home educating my three vibrant children.
PH: 0432 107 835
EMAIL: annabelle.hall@optusnet.com.au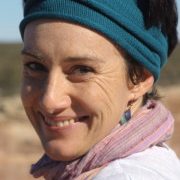 Rebekah Honey
Bendigo, Central Victoria
PHONE: 0412 443 674
EMAIL: rebekahr(at)rebekahrussell(dot)com
read more
Helping children to live happier lives is what it all comes down to for me. The greatest gift I have found in my life is being part of the transformational outcomes of supporting our children to become happy, resilient, creative and passionate human beings!
For over 10 years I have been collaborating with teachers, parents, schools and therapists to support children through Positive Psychology, Mental Health and Social and Emotional Learning. I am a published author and co-founder (with my father Ivan Honey) of 'The Get Happier Project', a holistic program designed to teach children a vital framework that gives them the tools to build resilience, emotional intelligence, creative problem solving skills and an understanding of how and why we behave. I am honoured to be able to work with children and young people this way and to support teachers, schools, early intervention programs and community groups through this fun and transformational program.
Since 2006 I have co-facilitated intensive 2 and 4 Day workshops on the Positive Psychology of Choice Theory. These workshops have been in both the private and government sectors, with a focus on supporting teachers and youth workers of all kinds.  I have presented at major conferences including the '2013 No 2 Bullying Conference', at which I shared the stage with positive psychology experts and leading authorities on anti-bullying and personal wellbeing.
I also have an affinity with nature and have worked extensively in Adventurous Training and Outdoor Education. As a qualified leader in Outdoor and Adventure Training, I came to embrace the deep and powerful connection open to us all through Earth Therapy. I use the skills and knowledge of leading in the outdoors to create safe and healing experiences for renewal and growth in the natural environment. I have led hundreds of people (adults and children) through challenging and rewarding activities in which fears and anxieties were transformed into self-knowledge and inspiration.
I am a qualified Positive Psychology Trainer (William Glasser Institute International), Certified Life and Creativity Coach, Holistic Counsellor, I have a BSc and have my Masters of Science and Technology.  My first career was as an Officer in the Australian Army (13 years in leadership positions). Most importantly though, I am a mother to Josh and Ella and we live by the dam, with its flock of native ducks, in rural Central Victoria.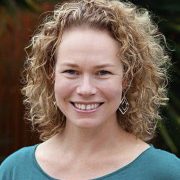 Melissa Jeffcott
Hampton, Melbourne
PHONE: 0415 577 727
EMAIL: melissa(at)melissajeffcott(dot)com
WEBSITE: www.melissajeffcott.com
read more
My work as a certified life coach sees me speaking to many women about the challenges of parenting, and keeping connected to your children as they move beyond the childhood years. Becoming a facilitator for A Celebration Day for Girls was the perfect way to marry my background in child and developmental psychology, my work as a life coach for mum's on the other side of forty, and my love of bringing women together to support and learn from each other.
A Celebration Day for Girls is a fun, engaging and informative workshop that both mums and daughters absolutely love and gain so much from. I am also a mum of two daughters and a son in this age range, and know first hand the benefits this day brings for your whole family.
I am based in Bayside Melbourne (Hampton), and I look forward to connecting with you and your daughter at a Celebration Day in the near future.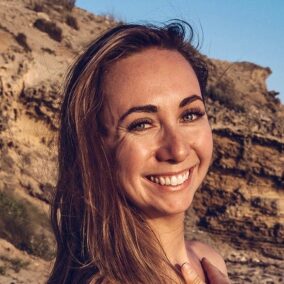 read more
I came to this work after moving across the world in my late 20s alone with a backpack. It wasn't until I found myself with the bare necessities that I started taking notice of my body, charting my menstrual cycle and listening a little more closely to her intrinsic wisdom and inner seasonal needs. Thirsty for immersion, I have gently shifted my life's work away from bedside nursing to walking alongside women and soon to be women through the most sacred rites of passage, menarche and motherhood.
I feel fiercely that all girls deserve to know about and find appreciation for their  beautiful cycling body with their mothers, carers, friends, their most trusted souls alongside them for the journey. This is where trust grows, trust in themselves and trust in their maternal lineage in a world where we are not always taught how to feel into our cyclical vessel and intuitive wisdom.
I open and hold space for the Becoming of young women. For education and storytelling. For play and curiosity. I lead from the heart and create from where my inner 12 year old wishes she was lead from.
My biggest wish is for young women to feel a strong autonomy and awe over their bodies. That they look at the stars and know they are made of the same light and wonder. That their bodies are beautiful constellations uniquely theirs to listen to and care for.
I spend most of my time working as a registered paediatric nurse, leading a team who offer postnatal residential support services in sleep/settling, infant development, behaviour and parenting and skills development. I also enjoy holding space as a yin yoga teacher, am an avid bookworm and eco warrior. I enjoy an active lifestyle by the beach in Edithvale, Melbourne with my beautiful partner.
I look forward to meeting you and holding space for you and your wonderful daughter.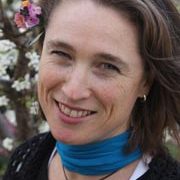 Janoel Liddy
Preston, Melbourne
PHONE: 0408 664 919
EMAIL: contact.janoel(at)gmail(dot)com
WEBSITE: www.stepintowomanhood.com
read more
I came to this work through my passion for empowering girls to live fulfilling lives with self-awareness and the confidence to love, respect and care for themselves.  My role as the founder of Step into Womanhood arose from my women's circle work, a shared meeting space for deep reflection and development.
I offer relaxed and enjoyable programs that involve both girls and parents, holding a safe and engaging space for individuals and groups.  I have worked in TAFE, university and community organisations as a facilitator, trainer and event organiser for more than 20 years.
I offer puberty and well-being education in schools, Celebration Day for Girls and Fathers Celebrating Daughters workshops as well as Cool on the Inside.
I am also responsible for an annual Mother and Daughter Coming of Age retreat run in Bali each year during the July school holidays.  I find it exciting and tremendously fulfilling to work with mothers and daughters as they develop greater understanding and celebration of their cycle and sense of self.
My purpose is to create meaningful programs for young people, to deepen their connection to themselves, their community and their environment, becoming vibrant young women and men in the process!
I am on the journey of raising a son and daughter with my partner of 20 years in Melbourne's north.  A foodie, reader and storyteller, I make time for daily walks with the dog, weekly yoga and dance.
My quals include a Bachelor of Arts (Monash), Graduate Certificate in Training Management, Advanced Diploma in Hospitality, Certificate IV TAE in Training and Assessment, Steiner Teacher Training, Working with Children Check.
I also facilitate Celebration Circle for Girls (online) and the companion workshop Fathers Celebrating Daughters.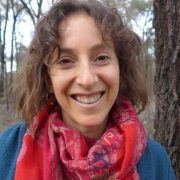 Beck Meyers
Castlemaine, Central Victoria
PHONE: 0499 015 975
EMAIL: beckmeyers(at)gmail(dot)com
read more
I am a qualified creative arts therapy practitioner with a background of over 14 years in community arts and development.  During this time I have had the honour of working with refugees, persons experiencing homelessness, mental health issues and women's groups. This has deepened my awe of the emergent resilience, collaborative learning and transformation that occurs when sharing creative expression together.
I became especially moved to work with mothers and daughters when I embarked on the journey to become a mother myself. I live with my son and my daughter in a beautiful valley where we enjoy fostering connection with nature and the community around our home.
I am excited and honoured to facilitate A Celebration Day for Girls workshops. This nourishing space invites mothers and daughters to connect and celebrate the magical time a girl enters puberty, as well as for a girl to feel the support of her community around her as she transitions into a young woman. My aim is that girls come away from the day with a deeper knowledge and appreciation of their bodies, and a stronger sense of who they are and can be within the world. It's important to me to facilitate workshops that have a warm, welcoming and safe atmosphere for all participants. I welcome your questions, curiosity and registrations for A Celebration Day for Girls workshops.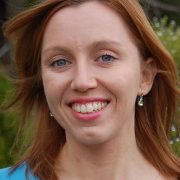 Tanja Novakovic
Ivanhoe East, Melbourne
PHONE: 0410 106 879
EMAIL: tanjanovakovic1(at)gmail(dot)com
read more
I am an experienced primary school teacher holding a Masters of Education. When I am not facilitating Celebration Day, I am teaching at a school in my local community. I am eternally curious and love sharing my passion for learning. I enjoy dancing, singing, immersing myself in nature and enjoying time with loved ones. Facilitating Celebration Day for girls is close to my heart as I believe that the knowledge and support the girls receive is deeply needed and important. A positive menarche experience can help build confidence and wellbeing throughout life.
Growing up, I found support and learnt about menstruation and the woman's journey through my mother. This relationship has helped me be the woman I am. It is truly special to help facilitate some of the conversation, celebration and passing of wisdom through the maternal line through this work.
Sisterhood circles have been a valuable part of my life for the past couple years. From regularly meeting and learning with sisters, I have found it very rich and rewarding when women support one another and work together without competition. This is the culture I share with others through Celebration Day.
I am passionate about empowering young people to be their best selves and see the value of their unique talents. As a teacher and facilitator I am caring, friendly and aim to make the activities fun and enriching for the girls and mothers. I look forward to meeting you.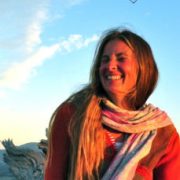 Ingrid Petterson
Grovedale, Geelong
PHONE: 0420 932 751
EMAIL artmedicine(at)ymail(dot)com
read more
"I am always humbled to sit in circle with mothers & daughters. Sharing together, boundaries dissipate. We hear our stories in each other's voices and our compassion grows. In this we are all connected."
My work as a facilitator, art therapist and community worker, offers me the gift of working with girls and women with diverse backgrounds, abilities and life experiences. As a 'Celebration day for Girls' facilitator I am honoured to spend sacred time with girls, and their female carers, moving through the thresholds of menarche.
I am passionate about creating a safe and joyous world for all of our daughters and sons to grow up in. I look forward to sharing and learning with you.
With inspiration, Ingrid
B.A (Fine Arts, Philosophy & Women's Studies), Dip. Transpersonal Art Therapy, Cert IV TAE, qualified member of the Australian Counseling Association, certified 'Celebration day for Girls' facilitator and 'Father's celebrating Daughters' facilitator.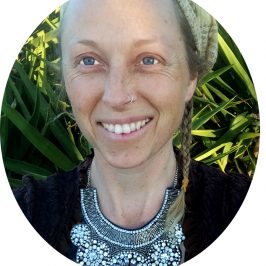 Rachel Pilgrim
 Guildford, Central Victoria
PHONE: 0430 450 967
EMAIL: rachel.pilgrim(at)yahoo(dot)com
read more
I have qualifications in science, photography and yoga, and merge these together as an artist, gardener and overall lover of life. I have studied and lived in Yoga ashrams in Australia and India, and continue an ongoing practice in my own life.
For many years I have been drawn to deeply explore my own experience of being a woman. This journey accelerated with the pregnancy and birth of my first child in 2008. I have had many years involvement in women's work: gathering and sharing in circles and exploring deeply what it is and what it means to be a woman. Through this, and through charting my own menstrual cycles, I have come to know first hand the positive impact and profound changes that come from tuning into ones own body. I feel a great sense of wholeness and connection when I observe nature's cycles.
I am passionate about working with women and girls to support a healthy relationship with their bodies and menstrual cycles, and believe this work is imperative for young girls growing up in a culture where women are increasingly objectified and sexualised in the media.
A Celebration Day for Girls introduces girls to the next stage of womanhood in a beautiful, gentle and positive way, connecting them with each other and strengthening their mother-daughter relationship. I am excited to be offering this wonderful program to the families in my community, and welcome your questions, expressions of interest and, of course, registrations. Rachel also offer Fathers Celebrating Daughters workshops.
I also facilitate Celebration Circle for Girls (online) and the companion workshop Fathers Celebrating Daughters.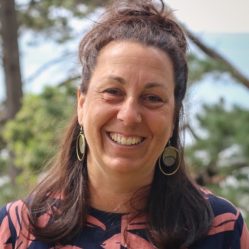 Rebekah Popplewell
Rosebud, Mornington Peninsula
PHONE: 0439 814 216
EMAIL: merakicircles(at)gmail(dot)com
read more
As a youth worker and art therapist I have worked with young people for the past 25 years in a variety of settings including local government, education, not for profit and juvenile justice. After many years of sharing young people's journey's with them, I have come to realise that honouring and marking the significant milestones for our young people is vitally important in them growing up to be healthy, well rounded adults who have a sense of belonging and connectedness to both themselves and their community.
I have recently come to understand Rites of Passages on a deeper level and believe they are a vital missing link for our young people today and have since become passionate about creating spaces and opportunities for these moments to be marked, this resulted in me co – founding Meraki Circles. I am excited to be able to offer Celebration Days to our younger girls, in the hope that I can be a part of creating space for girls to explore puberty in a healthy way, ultimately feeling more confident about their bodies and what is about to take place.
I am blessed to share my life with a beautiful life partner and three amazing children and live on the Mornington Peninsula. We are a part of a faith community, enjoy being outdoors, discovering new places and family movie nights!
My formal qualifications are Bachelor of Youth Work, Graduate Certificate in Art Therapy, Level 1 and 2 Rites of Passage Institute, MPower Girls Facilitator, Seasons Grief and Loss Facilitator and Mental Health First Aid Trainer. I have a Working with Children's Check and First Aid in Education settings.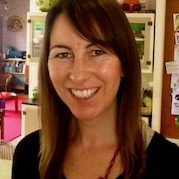 Sally Quinn
Footscray, Melbourne
PHONE: 0401 946 325, 9689 5369
EMAIL: sally.quinn(at)greencollect(dot)org
read more
After participating in a Celebration Day with my daughter in 2013, I knew that we had begun an important journey together; one that included not just us, but our family and community too. As a mum of 4 kids (including 3 girls!), I can already see the very tangible impacts of nurturing an affirming and open approach to menstruation and the different cycles in our lives.
As Co-founder and CEO of Green Collect, a not for profit social enterprise, my 'main' work is in the area of social and environmental sustainability. This work comes from a deep care for our natural environment and for communities facing significant disadvantage. Through flexible and supportive workplaces we journey closely with refugee communities, people experiencing homeless and at risk young people.
I feel very drawn to opening up the experience of Celebration Day for Girls to girls and women in communities where there is often trauma and lack of information around menarche and menstrual well-being. My training and experience as a social worker has given me strengths in facilitation, mediation, community development and support, particularly in relation to women's issues.
I am really passionate about seeing young girls move forward into the world knowing their incredible strength and uniqueness, and able to embrace puberty as a time of possibility and empowerment. It's no surprise that my move towards this work, has been accompanied by new awakenings in my own journey too! After 14 pretty busy years of mothering and 'careering' I have taken time to explore my own wisdom and cycles in a deeper way.
I feel very privileged to be sharing the fun and learning of Celebration Day for Girls with my local community in Footscray, and in Melbourne's western suburbs. Please contact me to explore sessions with schools, community and friendship groups.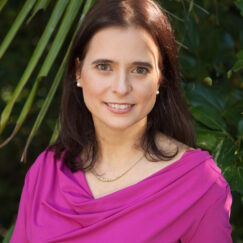 Estefania Rieder Batista
Hastings
Canary Islands, Spain
Kuwait
PH: +613 449 044 208
EMAIL: estefania(at)creatinglife(dot)com
WEBSITE: www.creatinglife.com
read more
I grew up in Tenerife, the largest of Spain's Canary Islands, off West Africa. I now live in Melbourne with my family and travel every year to Europe and the Middle East for work and visit family in Austria and Spain.
I am an author, speaker, virtual coach and Neuro-Training expert, specialising in MTHFR, fertility and pregnancy. For over 20 years I have worked with people across over 10 countries, in both English and Spanish. I love to coach women and couples toward successful pregnancy, natural birth and other critical transitions in life.
As an extension to this work I delight in offering Celebration Day for Girls in the Middle East, Spain and Australia. This is a very special workshop that supports girls and their mothers at this critical transition, and has the very real potential to make a lifelong difference.
I look forward to meeting you and your daughter.
I also offer Celebration Circle for Girls (online.)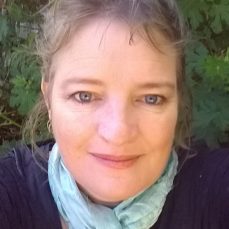 Alicia Rutter
Cranbourne, Melbourne
PHONE: 0457 336 787
EMAIL: aej.1065(at)yahoo(dot)com(dot)au
read more
I'm a creative expression facilitator with a Diploma in Art Therapy and a home educator with over twenty years experience home schooling my four children.
My background is in disabilities, foster care and refugees and am passionate about empowerment through education and love group work with people of any age..
I bring a great sense of respect, joy and inclusion to all my workshops.
I look forward to meeting you and your daughter soon.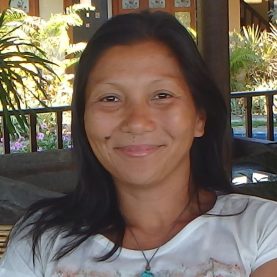 Inge Scott
Noojee, Gippsland
St Mary's, Tasmania
EMAIL: spicedoutales(at)gmail(dot)com
PHONE: 0400 592 422
read more
Being a mother to three beautifully-natured home-learners and wife to an amazing man, I have surely been trusted intuitively for a most humbling and rewarding occupation.
All my life I have been very passionate about promoting a harmonious relationship firstly and consciously with oneself; encouraging family bonding; nurturing a balanced life; embracing diversity in cultures and ethnics; and holistic connection through meditation to attain a content, kind and compassionate state of being.
I left my career as an account and management advisor for foreign companies when I fell pregnant with my second child (first daughter). Since 2007 I have operated a home-based business producing beautiful personal care products and qualified as a master of Reiki. I also run workshops on how to make tofu and tempe, Batik, and HYO (heal your own) workshops on Ayurvedic methods. I volunteered teaching Indonesian language and culture at local schools and visiting the elderly in a residential care home when I lived in Gippsland, Victoria over several years.
My family and I now live in Tasmania and I am so much looking forward to offering Celebration Day for Girls here, as well as returning to Gippsland regularly for this purpose. I am so grateful to be part of the Celebration Day for Girls community, to help create positive experiences for girls with their first menarche, and I treasure the honour of carrying on this well-established work created by Jane Bennett.
Blessings!
I also facilitate the companion workshop Fathers Celebrating Daughters.

Kyla Seipp
Bass Coast/Upwey
PHONE:  0474 135 944
EMAIL:  kyla.seipp(at)gmail(dot)com
read more
I believe the most positive change we can make in this world is to invest in the next generation of girls. I also know, as a teacher, how education and mentorship are vehicles to drive change for future generations. Through working as an early childhood teacher I understand the most impactful learning happens in environments that feel safe, in order for relationships to be nurtured. I also believe that humour, fun and play are important elements to creating safe environments. I have practised these skills in my work and use them to facilitate safe, fun and positive learning environments full of intention and ritual to support girls to feel secure and empowered in their journey into adolescence.
My mother took me along to a mother daughter circle when I was starting my own journey through puberty. I look back on this experience fondly and remember well how it felt for me as a 10 year old girl. Yes I was nervous and scared, but also excited and full of so many emotions that I wanted to cry and scream simultaneously when we sat down for the beginning of the circle. 25 years later I look back on this experience and can understand how profound and impactful it was in strengthening my relationship with my body,  my mother and my self. I felt so warmly welcomed into this new world of sisterhood, which, since then, I have carried and treasured through my life.
I have qualifications in Early Childhood Education, Rites of Passage facilitation, Youth Mentorship, Adolescence Counselling and Trauma Informed Practice.
I love to facilitate the Celebration Day for Girls workshop for girls and their mums in my community. I look forward to hearing from you and answering any questions you might have about how this workshop can support you and your daughter.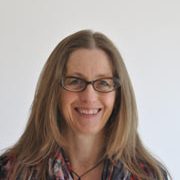 Carolyn Shurey
Reservoir, Melbourne
PHONE: 0438 232 361
EMAIL: caroshurey(at)gmail(dot)com
read more
I am a qualified Primary School teacher, group facilitator, adult trainer, yoga and meditation teacher. I currently work as a Learning Facilitator at the Royal Botanic Gardens-Melbourne and also teach Meditation and Yoga at Prana House in Thornbury. I bring over 25 years of experience in the field of Education, Training and Group Facilitation with people of all ages and a large variety of backgrounds. I am passionate about social change, empowering people through education and facilitating supportive processes that build strong communities.
I see A Celebration Day for Girls as an integral and empowering process that helps guide and support girls through a time of great change. I craved this support as a girl and wish to share practical and positive information with girls that will help them grow into confident empowered young women.
I live in the northern suburbs of Melbourne with my gorgeous daughter and loving partner.  Our home has a permaculture garden complete with chooks, a bee hive and fruit trees.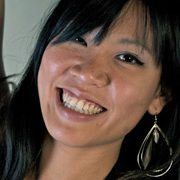 read more
I am a creative art therapist, counselor, yoga, dance and meditation teacher. I have been teaching and facilitating workshops with women and girls for the past decade, and am passionate about and devoted to sacred feminine embodiment through the arts and movement.
The director and founder of The Art2Healing Project, a non-profit organization supporting the empowerment and healing of women rescued from the sex trafficked industry, I have worked in over 8 countries in Asia and the Pacific, from the refugee camps in the jungle of Burma, war zones in Cambodia to slums and brothels in Kathmandu. In 2012 I began working with Aboriginal girls in rural communities in the Alice Springs area of Central Australia. As well as art therapy and movement I am passionate about teaching menstrual cycle awareness and other means to a positive, empowered experience of our bodies and ourselves.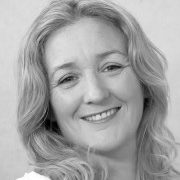 Mardi Terrasson
Doveton, Melbourne
PHONE: 0490 202 882
EMAIL: rainbowstarsisterhood(at)gmail(dot)com
read more
Positive women's empowerment education and public speaking have been my passion for over 20 years. As the founder of the Rainbow Star sister circle movement in Australia I have developed many supportive sisterhood communities. A published author on women's topics, I have dedicated my life to improving the quality of life for all women. Working for the Department of Human Services over 15 years enabled me to gain vast experience in the many challenges facing young women in our modern world. I believe in building confidence in young girls as they become women so that they have a life of happiness and success.
The Celebration Day for Girls is a superb method of positive menstrual education, held in an inclusive environment that promotes wellbeing. Being comfortable with yourself, having fun and encouraging a loving bond with your mother are treasures this wonderful day offers girls. I am honoured as a facilitator to be able to offer this life-gift for your daughters as they begin to grow into the women they want to become.
I look forward to meeting you and sharing this beautiful day.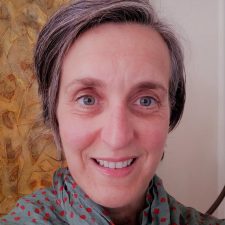 Keitha Jane Theodore
Ballarat, Central & South Western Victoria
PHONE: 0408 33 29 78
EMAIL: keithajtheodore(at)gmail(dot)com
read more
I am a qualified secondary science teacher specialising in VCE Biology and
Environmental Science. My passion for wellbeing took me on a journey to complete
my Master of Education (Student Wellbeing), Mindfulness in Education training, and more recently, opportunities to incorporate my love for yoga, especially chair yoga, into my classroom lessons.
While working with young women in the later years of their secondary schooling, I noticed a disconnection with the natural rhythm of their menstrual cycle. Seeking to
find out more through the sisterhood of women's circles, and of course, scientific research, I stumbled across A Celebration Day for Girls and instantly found the solution I was looking for. To be able to support girls, along with their mothers and fathers, to reconnect with their bodies without shame or secrecy is a blessing.
I feel honoured to facilitate A Celebration Day for Girls sessions, as well as the companion workshop, Fathers Celebrating Daughters, in a relaxed and respectful setting. I look forward to meeting your daughters and welcome queries regarding this empowering experience. I also offer Celebration Circle for Girls online.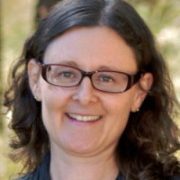 Nicole Tricarico
Shepparton, Central & North Eastern Victoria
EMAIL: ntricarico(at)bigpond(dot)com
WEBSITE: www.yourbirthsupport.com
read more
As an Naturopath with 20 years experience specialising in women's health, menstrual cycle awareness and infertility, becoming a Celebration Day for Girls facilitator seemed to be a natural and great fit for me. I also have 10 years experience as a Birth Educator/Mentor, preparing couples for birth and parenting, and have trained more recently as a Dunstan Baby Language Educator.
I have been called to work with women in other settings like Women's Circles, Mum's groups and Blessingways, and am very excited to now be offering such a wonderful opportunity to girls and their mothers in my community. I feel honored to be able to help prepare girls for this major rite of passage in their life and bring connection, normalisation, self awareness and understanding to what can be a really positive time for both girls and their mums.
I live in the Goulburn Valley with my husband and 3 beautiful children.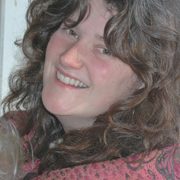 Jules White
Ballarat, Western Victoria
PHONE: 0419 303 856
EMAIL: circlesoftruth(at)westnet(dot)com(dot)au
read more
I am a qualified primary and secondary science teacher. I have over 15 years facilitation experience working with environmental, landcare and farmer groups as well as running women circles and retreats. I have a business called Circles of Truth and sell beaded Moonflow Belts to celebrate menstruation. I am the mother of three beautiful daughters and with my husband Scott live on three picturesque acres of land, where we aim to live sustainably and simply.
I also facilitate the companion workshop Fathers Celebrating Daughters.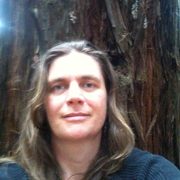 Luna White
Yarra Junction, Yarra Ranges
PHONE: 0433 337 161
EMAIL: luna(at)littlefeetfarm(dot)com(dot)au
read more
I live in the beautiful Yarra Valley on a permaculture-inspired organic farm, with my partner and 3 daughters. We grow seasonal organic produce for direct supply to our local community. We aim to live sustainably and in close connection to the earth and the elementals. We are currently owner-building our family home.
I have a background in political activism, am a massage therapist and have many years experience sharing and holding sacred space with women.
I am passionately committed to supporting Woman as she journeys within herself. I believe that as women, being connected to and informed by the monthly rhythms of birth, death and rebirth within our own bodies, aligns us to the power of creation.
I seek to honour, empower and support young women to be respectfully initiated into womanhood. If menarche can be held consciously, my hope is that it may flow on into teenage life and adulthood with reverence and respect for our bodies, our blood and our being.
PHONE: 0433 337 161
EMAIL: moonsista1975@yahoo.com.au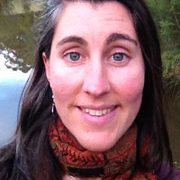 Melinda Whyman
Yarra Junction, Yarra Ranges
PHONE: 0414 258 490
EMAIL: melinda.whyman(at)gmail(dot)com
read more
I am a Naturopath, Homoeopath, Herbalist, Natural Fertility Management Counsellor, Menstrual Health Educator and Birth Attendant. I have been immersed in the realms of women's business since 1996.
I live in the beautiful Yarra Valley with my Beloved, 4 children and many animal friends. In my spare time I enjoy swimming, reading, writing and organic gardening.
In 2010, I graduated from the School of Shamanic Midwifery and in the years to follow have continued to work within this organisation in support of program administration and events management.
I am passionate about the rites of passage in a woman's life – birth, menarche, childbirth, menopause – being honoured and celebrated as sacred times of transformation, preparing her for the next life stage to come and positively shaping her attitudes and beliefs about herself and the world around her.
I feel excited and deeply privileged to have the opportunity to empower and educate young girls in preparation for their menarche, to share with them the wisdom of their body and its cycles and the sacredness and beauty of what it is to be a Woman.
I also offer Fathers Celebrating Daughters and Cool on the Insideworkshops.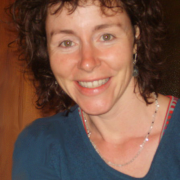 read more
I am an educator and facilitator with 18 years' experience in both classroom and workshop settings, and also a birth attendant, providing emotional and physical support to women through pregnancy, birth and postnatally. It is out of this work—accompanied by my long-time love affair with dance—that my passion for body literacy and puberty education has blossomed. My experience of being 'with' women, through birth and dance, has offered me a unique understanding of what it means to be in a healthy relationship with the body. It's time to create a new paradigm and it starts with our girls! We all – parents, caregivers and teachers – can support our girls to be body literate and body trusting.
I live close to the Yarra River, with my husband and our three children, plus the dog and cat. In my free time, I write and walk in nature as much as possible, but not both at the same time.