07 Dec

Colombia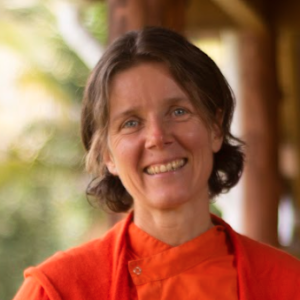 Didi Ananda Rashmika
El Carmen de Viboral, Antioquia
EMAIL: anandarashmika(at)gmail(dot)com
ORGANISATION: https://www.mujerdespierta.org
read more
Shortly after I was introduced to Menstrual Cycle Awareness, inspired by all it had brought me, I started sharing this newly discovered wisdom with women around me, first in person, later on in workshops and webinars. The reaction was always the same: "Why did we not learn this before?"
Over time this question turned into: "What can I do to spread the positive experience of the cycle to young girls?" and the answer was provided when I came across Jane Bennett's work in 2019: The Celebration Day for Girls.
Jane's question on her website: "What does it mean to be a woman in this world today" is one that I had been asking myself. I have dedicated my life to the ideals of self-realisation and universal welfare, with a focus on empowerment and wellbeing of women and as I worked in Europe, the Middle East, Asia and since 2016, South America, I have been blessed to see the common experiences we share as women, regardless of our circumstances and cultures.
However, in my work and in what I observed around me, there had been a missing link with young girls on their journey to womanhood. For me, the Celebration Day fills that gap and I am both honoured and humbled to play a small part in that journey.
Because, although I love nature, hiking with my dogs and every now and then training for a half marathon, there is nothing that fulfils me more than seeing girls and women grow and transform their lives, becoming their wonderfully feminine, strong and happy selves.
I have lived in the Antioquia reign of Colombia since 2016 and am the CEO of Foundatión PanaceAM.