Materials for your CDG and Mother's Session
If, despite your best efforts, you aren't able to get mothers to commit to a Mother's Session you can use this Alternate Mothers Session Letter as a template to help prepare them for the Day.
Here is an Attendance List template you may find useful for details of workshop attendees. It's in Word and to change the Date, Venue, Host details double click in that section. Thank you Janoel Liddy.
Photo consent form if you'd like to use photos from the Day for promotion.
Here is the CDG Master Resource List, useful for drawing together small number to recommend to your CDG mothers and families. Thank you Ange Fraser and Kath Callinan-Moore for your great efforts pulling together this resource.
CDG words to print and laminate at the beginning of the Day.
This doc will give you more detail about the set up and purpose of the Seed Mandala Ritual
There is a clip of Jane explaining how to cut and make a cloth for the mandala on Youtube. Go here to see it. Thank you Emily Stewart.
Use these instructions to make your own Womb Apron, and how to use this great educational tool. Apparently the instructions also work for non-crafty types. Thanks Jane Bennett.
If you'd like to share some of the Questions girls have asked during CDGs with mothers and/or girls this doc is the list from the pre-2020 Training Manual (i.e. many more questions than in the 2020 Manual).
How Many Periods
Thank you to Hamish who gifted his design expertise to us with these How Many Periods sheets and to Angela Fraser who gently (ahem) prompted him.  Please pass on any feedback to Angela about how these documents worked in your CDG. Thank you! angelafrasernz@gmail.com
HowManyPeriods-commercial printer
Thank you to Mariana Zavery for updating the How Many Periods page, creating a white-background version (easier on your printer cartridge) and translating into Spanish.
And this alternative version  How many periods? 2021
Thank you Karin Van Ginnekin for your translation of the Flemish/Dutch version
And thank you Gaia Mureda for these German and Italian versions
Thank you Ange Fraser for writing and designing the Follow Your Rhythm sheet for discussion and suggestions for self-care after the How Many Periods exercise. Here are the Following Your Rhythm Facilitator Notes to support your use of Follow Your Rhythm.
Thank you Mariana Zavery for your contribution to the design of the Follow Your Rhythm sheet and facilitator notes. And for translating these into Spanish:
Stories
A Tiny Seed of Wisdom is a beautiful story by Angela Fraser, illustrated by Rebecca Holland, and works well instead of Someday or Princess Sophia.
Cycling to Grandma's House by Jac Torres-Gomez works beautifully read in all or part during the 'cultural relativity activity', often henna painting but also other suitable fun activities. Also available Dymocks, Fishpond and Amazon
Adapting English language resources
Here are two examples of how English language resources can be adapted for use in other languages. The cards can be reverted for use in English, depending on the audience. Thank you Mirella Van Staveren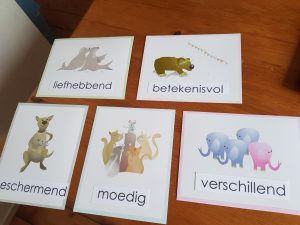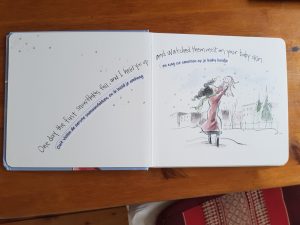 Life images
Lennart Nilsson's book LIFE (you saw some of these photographs at your CDG Training) is now more widely available and reasonably priced than a few years ago, both new and used. Just Google. Tip: you want the LIFE book, his other books have lots more text and much smaller photos. If you can get the book as there are so many gorgeous photos. Thank you Lennart. RIP.
You can access key individual images of Lennart's or similar photographers by Googling:
photo of ovulation
photo of egg after ovulation
photo of ova compared to sperm size
lennart nilsson photo of ovulation
lennart nilsson photo of ova after ovulation
lennart nilsson fallopian tubes
and whatever else you fancy …
Locket materials
Beauty lives in all aspects of Celebration Day for Girls, not least how you put your materials together. Here's Mirella Van Staveren's tea-caddy Locket box.

Strength Cards
As an alternative to the Strength Cards from Innovative Resources have a look at this printable pdf from iamstrong.com.au, also called Strength Cards. Much cheaper, no paying and waiting for post, and instantly available with a colour printer. We recommend you laminate them for durability.
Postcards
Girls Mandala Postcards, Mothers Mandala Postcards and Post-menopause Mandala Postcards if you want to print these for an end of the Day gift to take home. If you're using a commercial printer use this doc, and this one for a home printer.
Here is a beautiful poem, At The Threshold of Womanhood by John O'Donohue – Benedictus. You may like to gift a copy of this instead, or as well as, the cards. Thank you Melinda Whyman for sharing this beautiful poem.
And thank you Mariana Zavery for sharing this beautiful poem by Lucille Clifton with us: Poem in praise of menstruation.
If you're feeling crafty here are instructions for making your own Wombs of wisdom.
Training Manual
Here is the 2020 CDG Facilitator's Training Manual. You can check it out for updates and a general refresh of your training. Enjoy the brand new luscious design by Mariana Zavery. Thank you Mariana. Awesome work!
See especially the workshop Running Sheet pages.
Celebration Day for Girls Facilitator Training Manual 2021
Please note: the email address for advising re scheduled CDG dates and invoices is: celedayad@gmail.com NOT beck@celebrationdayforgirls.com as the Manual quotes.
Additional or alternative activities
The following processes are delightful and profound, and have been offered by facilitators. These may be included in, or swapped with other activities, during CDG.
Ten Generations Visualisation to complete the Mothers Session, thank you Emily Stewart.
One body Two hearts after the mandala resolution at the end of the CDG, thank you Elena Rui.
A Tiny Seed of Wisdom is a beautiful story by Angela Fraser, illustrated by Rebecca Holland, and works well instead of Someday or Princess Sophia.